The Blue Heron
2010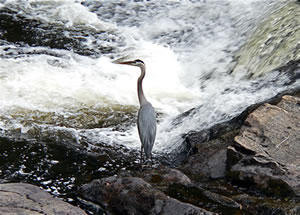 Listen to "The Blue Heron"
Read by Daniel Thomas Moran
Within the depiction
which is this river,
The Blue Heron is composed.
In the moving world,
like the rock which
is his perch,
He must be the stillness.
He knows that what
he needs, will come.
He must be ready for it.
This morning's rain runs
off the slate of his back.
He understands, somehow.
The rain is the river, and
The river is the fish, and
The fish is himself.
Daniel Thomas Moran